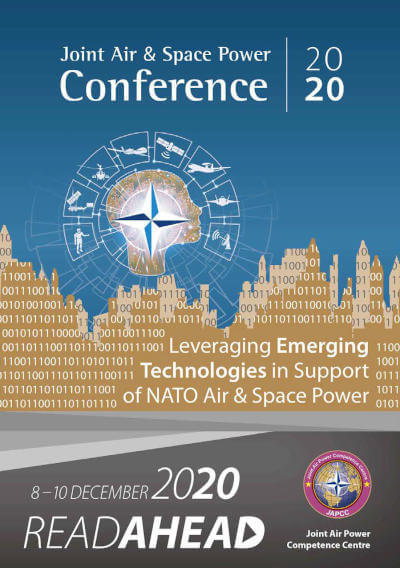 This read ahead material represents the largest ever submission of articles from air and space power experts worldwide to a JAPCC publication. Many of these have been specially written for this year's Joint Air and Space Power Conference. As you read and critically appraise the articles, you will want to make notes and (perhaps furiously!) underline and highlight those parts that you take issue with. Please do this!
It is our pleasure to present this 29th edition of the JAPCC Journal, Transforming Joint Air and Space Power. This offering opens with an assessment by the JAPCC Director and Commander, Allied Air Command, General Jeff Harrigian, of what he considers the three main elements of Multi-Domain Operations and how the relevant evolution of Command and Control will shape our future.
JAPCC Journal Article Showcase
'Air Power is the ability to use air capabilities to influence the behavior of actors and the course of events.'
Summary of the September 2015 Meeting of PAMD DG1, 17 September 2015
'Air Power is the ability to project military force in air or space by or from a platform (air, space, and surface based) or missile operating above the surface of the earth.'
Bi-SC Advice on NATO's Future Strategy, Posture, and Adaption, 13 November 2015
'Joint Air Power is a coherent and coordinated approach that allows all Services to apply military power in air or space from within any domain in order to generate desired effects across all domains.'
Bi-SC Final Report on Joint Air Power Capabilities, 7 December 2015
Some Facts about the Joint Air Power Competence Centre
Based on a Memorandum of Understanding (MoU), the JAPCC is sponsored by 16 NATO nations who provide a variety of experienced Subject Matter Experts (SME) that come from all three services. Through its multi-discipline organization, the JAPCC chooses the most suitable SMEs for the task and combines their knowledge and experience to fully contribute to transforming NATO's A&S Power. More importantly, the JAPCC is not constrained by the need for consensus or by political expediency in developing ideas. It can offer independent military advice across the spectrum of A&S Power to NATO HQs and national policy-making bodies.
Our primary customers are NATO Headquarters (Allied Command Operations, Allied Command Transformation, NATO Joint Commands and Air Command) and sponsoring nations. However, the JAPCC does accept Requests for Support (RfS) from other sources via our RfS form, which can be accessed through the JAPCC website. With numerous successful products and ever-increasing connections with industry and academia, the JAPCC continues to build upon its reputation as NATO's preeminent advocate for the development and enhancement of Joint A&S Power.
A&S Power SMEs, drawn from the Land, Maritime and Air components of the 16 MoU nations, conduct collaborative research into areas in which JAPCC assistance is requested by leveraging their independent thought and a global network of experts that reach across the military, academic and industrial spheres. The resulting analysis and solutions are disseminated via studies, reports, journal articles, seminars, panels and conferences.
JAPCC Vision
Be NATO's catalyst for the improvement and transformation of Joint Air and Space Power; delivering effective solutions through independent thought and analysis.
JAPCC Mission
The JAPCC, as a team of multinational experts, is to provide key decision-makers effective solutions on Air and Space Power challenges, in order to safeguard NATO and the Nations' interests.